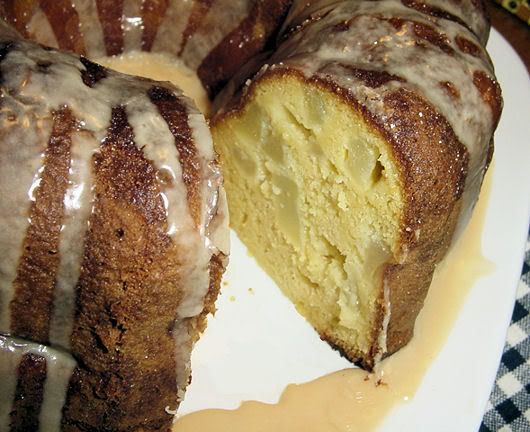 Mmmm...nothing like smell of hot apple cider! I was in a hurry to make something for dessert, so this was whipped up from a boxed cake mix. Nothing to be ashamed of! It tastes delicious, very moist, damp, dense and full of apple chunks! If I were to make this again, I would skip the powdered sugar icing and glaze it with (reduced) apple cider syrup.

Hot Apple Cider Cake

1 pkg. yellow or spice cake mix
1 pkg. vanilla instant pudding (4-serving size)
1 3/4 c. apple cider (plain)
3 medium Granny Smith apples (peeled, cored and roughly chopped)
4 eggs
1/3 c. oil
1 c. apple cider
2 c. powdered sugar

Preheat oven to 350°F. Boil 1 c. of apple cider in medium pan until it reduced to 1/4 c. about 8-10 minutes. Grease and flour 12-cup fluted tube pan or 10-inch tube pan. Beat cake mix, dry pudding mix, reduced apple cider, the remaining 3/4 c. cider, eggs and oil in large bowl with electric mixer on low speed until blended. Beat on high speed 2 min.
Gently stir in apples. Pour into prepared pan.
BAKE 50 min. to 1 hour or until toothpick inserted in center comes out clean.
Again, reduce 1 c. of cider to 1/4. c. Whisk into 2. c powdered sugar until smooth, add more cider if necessary. Drizzle over cake.