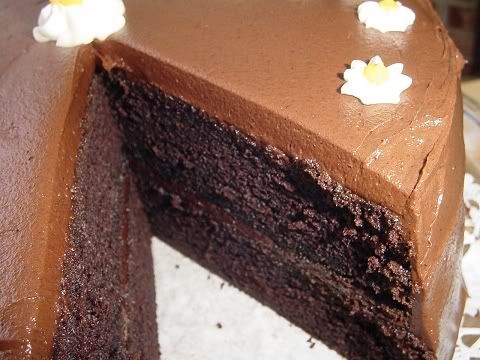 Happy Birthday to Me! I made my own birthday cake yesterday and it turned out delicious, moist and a huge hit with everyone that tasted it! It's the Guinness Chocolate Stout Cake from Epicurious and the Fool-Proof Chocolate Frosting from Cook's Illustrated.

The reviews on this cake do not lie...it's the perfect chocolate cake. You really can't taste the beer at all, it only deepens and highlights the chocolate flavor of the cake. I made this same cake last year for my birthday as well, topping it with a White Chocolate Italian Meringue Buttercream. This time I made my cake in 2- 8 inch pans and had enough batter left over for a medium sized Bundt cake pan. Here is a picture of last year's cake:

I can't recommend this cake enough...I mean, how could any cake that starts with four sticks of butter, nearly two cups of dutched cocoa and 2 cups of Guinness possibly be anything but delicious?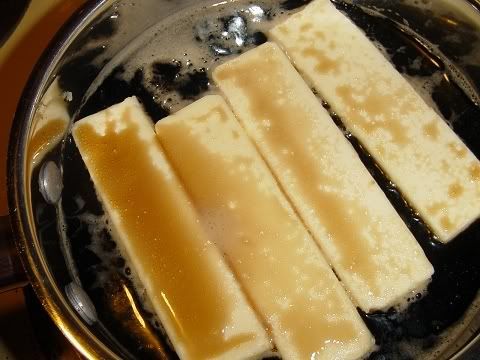 The recipe for the cake is linked up above but here is the recipe for that delicious fluffy, incredibly smooth chocolate icing! I used a premium milk chocolate for mine, but you can sub bittersweet or semi-sweet, whatever you prefer.

Fool-Proof Chocolate Frosting

20 tablespoons (2 1/2 sticks) unsalted butter, softened
1 cup confectioners sugar
3/4 cup Dutch-process cocoa
A pinch of table salt
3/4 cup light corn syrup
1 teaspoon vanilla extract
8 ounces milk chocolate, melted and cooled slightly

Add butter, sugar, cocoa and salt to the bowl of a food processor and process until smooth, making sure to scrape down the sides of the bowl. Add vanilla and corn syrup and process about 10 seconds more, then stop and scrape down sides again. Add melted chocolate and pulse on and off, about 15 seconds, until smooth.

You can use this immediately or make it up to 3 hours in advance. If you're holding it longer than that, refrigerate the frosting, covered until ready to use. Let stand at room temp one hour before using.