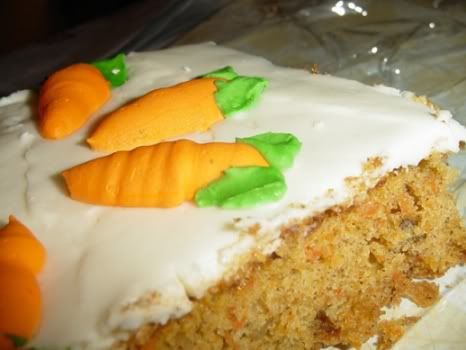 If there is one cake that I absolutely adore, it's carrot cake. I know it's not the best thing for me, full of vegetable oil but there is just something about the simplicity of carrots, walnuts and cream cheese...it just gets me every time. I've made a million and a half carrot cake in my time, some so heavy and dense the cake felt like a ton of bricks when you picked it up and others that tasted more like fluffy carrot-flavored cotton. So I decided to go where I always go when I want a recipe that works....Cook's Illustrated.

This is cake is beautifully moist but not heavy and paired with walnuts and a beautiful cream cheese frosting....it is the most heavenly springtime dessert. I decorated mine with royal icing carrots....my very first royal icing endeavor. They were a hoot to make...and so incredibly easy. They probably aren't the best looking carrots ever and they would have looked a lot nicer had I noticed I was using a PETAL tip to make the leaves but I'm pretty pleased with them!

Making the carrots: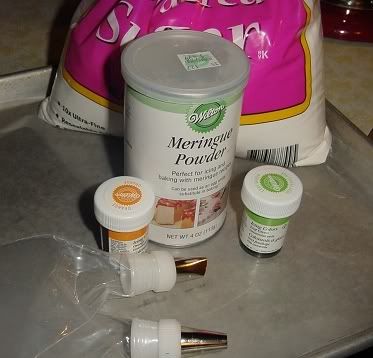 I did these without any instruction at all, just sort of guessing on everything. I learned it's important to ease pressure off the bag at the bottom of the carrot to make the pointed tip and that it's important to pay attention when piping decors or else you will end up piping leaves on the wrong end!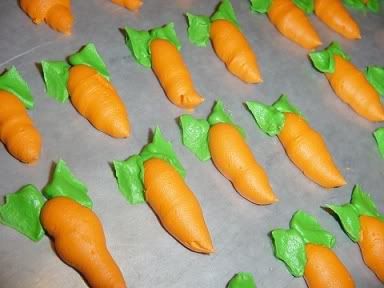 Carrot Cake

2-1/2 cups all purpose flour
1-1/4 teaspoons baking powder
1 teaspoon baking soda
1 1/4 tsp. ground cinnamon
1/2 tsp. ground nutmeg
1/8 tsp. ground cloves
1/2 tsp. salt
1 pound of carrots, peeled (about 6-7 medium)
1- 1/2 cups of granulated sugar
1/2 cup packed brown sugar
1 1/2 cups canola or vegetable oil

Now the cookbook's instructions were for making this in the food processor but I didn't feel like hauling that out, so I made this in my Kitchen Aid mixer, you can make it however you want, in a food processor or with a hand mixer, or even by hand.

Preheat oven to 350 degrees. Grease or spray with nonstick cooking spray a 15x10 jelly roll pan or a 9x13 baking pan. Line the bottom with parchment paper and then grease or spray the paper too.

Whisk together the flour, baking soda, baking powder, salt and spices in a medium bowl, set aside. In a large mixing bowl, combine oil, eggs and sugar and beat until thoroughly combined and light in color. Stir in the carrots and then the dry ingredients until incorporated no streaks of flour remain. Pour into prepared pan and bake until cake tests clean, 20 minutes (30-35 if using 9x13 pan). Cool cake to room temperature before icing.

Cream Cheese Icing

1 pound (2-8 oz packages) cream cheese, softened slightly
1/2 cup (1 stick) butter, softened slightly
1 1/2 teaspoons vanilla extract
5 cups sifted confectioners sugar

In a medium bowl, combine cream cheese and butter and beat on medium speed with an electric mixer until smooth, about 3 minutes. Add the vanilla. Gradually add the sugar and beat until well incorporated.