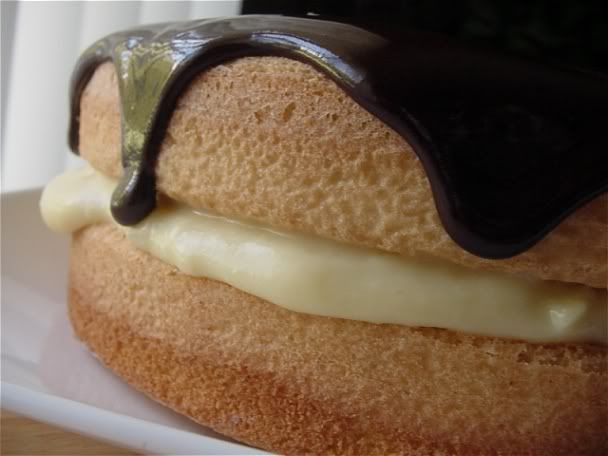 Boston Cream Pie

Adapted from Good Housekeeping Best Loved Desserts
Pastry Cream



3/4 c. + 6 Tbsp milk
2 large egg yolks
1/3 c. sugar
2 Tbsp. all purpose flour
2 Tbsp. cornstarch
1 Tbsp. butter
1 tsp. vanilla

1. In a heavy quart saucepan, heat 3/4 c. milk to boiling over medium heat.

2. Meanwhile, in a large bowl beat eggg yolks with whisk, along with remaining 6 Tbsp. milk and sugar until smooth. Add flour and cornstarch and whisk until blended. Gradually add hot milk, whisking until blended.

3. Return mixture to saucepan, cook over medium heat, whisking constantly, until mixture has thickened and boils. Cook 1-2 minutes more, over low heat, whisking constantly. Remove from heat and whisk in butter and vanilla.

4. Pour pastry cream into a shallow dish, press plastic wrap diretly onto the surface to keep skin from forming as it cools. Cool to room temp, then chill in refrigerator at least two hour or up to overnight.




Golden Butter Sponge Cake



1 1/2 c. all purpose flour
1 1/2 tsp. baking powder
1/4 tsp. salt
3 large large eggs
1/2 c. water
3 Tbsp. butter
1 1/2 tsp. vanilla extract
1 1/4 c. sugar

1. Preheat oven to 350 degrees. Grease two 8-inch round cake pans, line bottoms with a round of waxed or parchment paper and then grease and flour the paper.

2. In a medium bowl, combine flour, baking powder and salt with a wire whisk. Set aside.

3. In a large bowl, beat eggs on high speed with an electric mixer until tripled in volume, about 5 minutes.

4. Meanwhile, in a small saucepan, heat water and butter to boiling, remove from heat, add vanilla. (I did this in the microwave, in a heavy glass measuring cup, just to save washing another pan)

5. With mixer at high speed, gradually add sugar to eggs, beating until thick and lemon colored and mixture forms a ribbon when beaters are lifted, about 5-8 minutes more. Add flour mixture in two additions, folding gently just until blended. Pour in water mixture and stir gently until just blended.

6. Divide batter evenly between pans and bake until toothpick inserted int he center comes out clean, 15-20 minutes.

7. Run a thin knife around edges to loosen layers from sides of pan. Invert onto wire racks, remove waxed paper and cool completely.

8. When cake is cool, prepare chocolate glaze.

9. Cool glaze slightly until it warm, not hot. Take out your pastry cream and whisk it to loosen it up. Set aside.

10. Place 1 layer, flat side facing up, on cake plate and spread with all of the pastry cream. Top with second layer, rounded side up. Pour glaze over top and smooth with a small angled spatula so that it's even, letting some glaze slide down over the edge and down the side of the cake. Let glaze set.

Store cake in refrigerator, bring to room temp to serve.



Chocolate Glaze



3 squares (3 ounces) semi-sweet chocolate, chopped (I used 4 squares)
3 Tbsp. butter
1 Tbsp. light corn syrup
1 Tbsp. milk

Combine all ingredients in a heavy 1quart saucepan and heat on low, stirring occasionally, until melted and smooth.