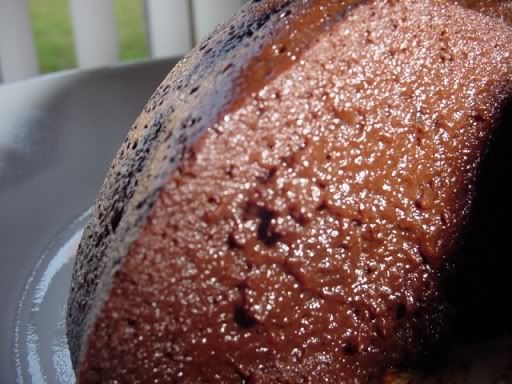 It might be springtime but we've had a sudden spate of cold weather and to me, cold weather is the perfect time for a nice steamed pudding. I also had a craving for chocolate and this recipe combines them both perfectly. This is a very moist, velvety smooth, intensely chocolate steamed pudding that stands alone very well but I can't ever leave well enough alone, so I like to top it with chocolate whipped cream. You can top it with regular whipped cream, ice cream, creme anglaise or go crazy and smother with with a dark ganache glaze. It tastes equally good hot or cold but I prefer it warm enough that it melts the whipped cream on top...so delicious!


Steamed Chocolate Pudding

2 1/2 cups (150 grams) dark bittersweet chocolate, chopped
1 cup whole milk
2 cups soft fresh white bread crumbs
4 tablespoons butter, softened
1 tablespoon powdered sugar
1 large egg, slightly beaten
1 cup sweetened condensed milk
1 teaspoon pure vanilla extract
a pinch of table salt
1/2 cup nuts, chopped (optional)

Fit a deep stockpot with a steamer rack and place your pudding tin/bowl onto rack, fill the pot with water until it comes 3/4 up the side of your pudding mold. Remove the pudding mold and set the water to boil over medium high heat.

Generously butter a 2 Liter capacity pudding tin or pudding bowl, making sure to get each crevice (this is key to un-molding the pudding) . Freeze bowl/tin for one minute and remove from freezer, then set aside while you prepare the pudding.

Melt the chocolate and milk over gentle heat and mix well so that no lumps remain. Add the bread crumbs to it. Mix well and set aside.

In a large bowl, cream the butter and sugar in a bowl till light and fluffy, beat in egg. Add the condensed milk, vanilla extract, walnuts and dark chocolate mixture and mix well.

If you're using a pudding tin, snap on lid and place the pudding on the steamer rack in the pot of boiling water, cover with pot lid. If you are using a bowl, take a double square of foil and a square, the same size, of parchment paper and grease the bottom . Make a pleat in the center and fix it over the pudding, tying it securely around the rim with string. Lower the bowl onto the steamer rack in the pot of boiling water and cover with pot lid.

Steam the pudding for 60 minutes, check water level and replenish if necessary. Steam 25-45 more minutes. A cake tester will not test clean, it should hold it's shape but still look very moist. Remove the pudding mold from pot, let rest 1 minute and then turn out onto serving dish.



You can serve this warm or cold, it's soft and squidgy when warm and as it cools, it firms up to a nice consistency. I had mine warm with softly whipped cocoa cream which melted immediately into a wonderful sauce.